First On-Set Report on Horns
There is a charming article on the Canadian website, The Province, reporting on Dan's current project, Horns.
"It's a metamorphosis story, but the thing that excited me was that tonally it wasn't like anything I had read," he says.
"It was both incredibly dark — like really dark and violent, and full of classic horror stuff — but also it has a very dry sense of humour."
It's a dialogue-heavy scene, "which I love," says Radcliffe, maintaining his character's American accent even off camera.
"The nature of the horns means that any time I meet somebody, they end up telling me their deepest, darkest revelations. So even a small scene like this becomes incredibly intense."
As to that American accent, "there are certain words — murderer is a hard word to say because there's so many f—ing Rs in it, and girlfriend. Now, unfortunately those are two of the words I use most in this movie."
Click the read more for pictures of Dan on the set of Horns, and for a still from the F Word.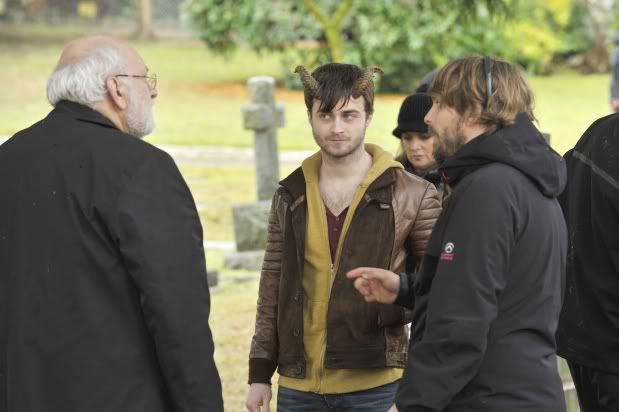 There are more pictures from the churchyard here, at SnitchSeeker, along with this promo for The F Word, of poor Wallace, suffering with Chantry's feet in his lap.
Roll on 2013!