Dan launches Woman in Black ghost story YouTube competition; Carols for a Cure album now on sale; DH1 & 2 nominated for British Academy Children's Awards; vote for Dan in People's Choice Awards
Dan launches YouTube ghost story competition
Behind the 'read more'
Daniel Radcliffe, the star of upcoming ghost story chiller, THE WOMAN IN BLACK, today launched an initiative to find the UK and Ireland's scariest story.  Beginning this Halloween, 31 October, budding writers will be able to submit their own original short story to THE WOMAN IN BLACK YouTube channel.  The winning entry will be recorded by Radcliffe and included on THE WOMAN IN BLACK DVD and the winner will win a trip to London to attend the Premiere of THE WOMAN IN BLACK in early 2012.

Daniel Radcliffe announced the competition with a reading of an iconic scene from Susan Hill's original novella. Radcliffe adds some advice for potential entrants, "For all you budding writers out there remember that it's 1% inspiration and 99% perspiration so good luck and I can't wait to see what spooky stories you guys come up with in the coming months"The competition will run exclusively on YouTube.   Entrants have to upload short videos of themselves reading their original ghost story through the film's official YouTube page – www.youtube.com/thewomaninblackmovie.  The competition closes on the 20th of December 2011, whereupon ten finalists will be chosen and voted for by the public.  The winner will be announced on the 6th of January 2012.

A full set of terms and conditions are available on the YouTube channel.
The Woman in Black opens in US cinemas on 3rd February 2012, and in UK cinemas a week later.
---
Carols for a Cure 2011: Vol 13 now available
The thirteenth annual Broadway Cares/Equity Fights Aids fundraiser album, Carols for a Cure, featuring Dan and the cast of How to Succeed's rendition of Tom Lehrer's A Christmas Carol, is now available to buy online and in Broadway theatres. BroadwayWorld.com have released some pictures of Dan recording the track.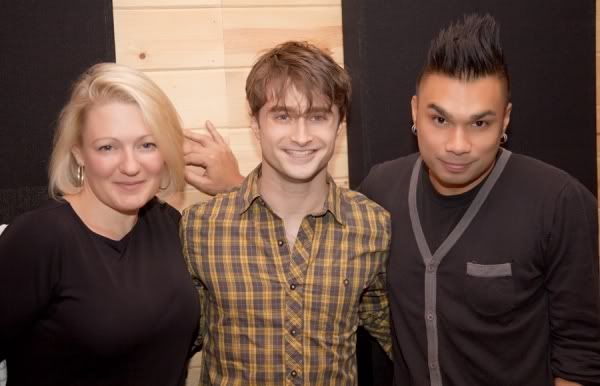 The album track listing is as follows:
 

DISC 1

1. HOW TO SUCCEED IN BUSINESS WITHOUT REALLY TRYING – A Christmas Carol, featuring Daniel Radcliffe

2. MEMPHIS – Give Away Love featuring Montego Glover & Chad Kimball

3. Kara DioGuardi and CHICAGO: The Musical – White Christmas

4. MARY POPPINS – Little Jesus Sweetly Sleep (The Rocking Carol)

5. MAMMA MIA – Hark! The Herald Angels Sing, featuring a vintage intro by the members of ABBA

6. WICKED – When the River Meets the Sea, featuring Kathy Fitzgerald

7. CATCH ME IF YOU CAN – Christmas is My Favorite Time of Year

8. THE ADDAMS FAMILY – The 13 Days of Christmas, featuring Roger Rees

9. THE PHANTOM OF THE OPERA – I Wonder as I Wander, featuring Hugh Panaro

10. SISTER ACT – Angels We Have Heard on High

11. ROCK OF AGES – O Come, O Come Emmanuel

12. THE LION KING – Silent Night, featuring Selloane Nkhela & Alton Fitzgerald White

 

DISC 2

13. SPIDER-MAN: TURN OFF THE DARK – St. Nicholas Sky, featuring Reeve Carney & T.V. Carpio

14. RENT – Go Tell It on the Mountain

15. PRISCILLA QUEEN OF THE DESERT – Light it Up! featuring Martha Wash & Nathan Lee Graham

16. WAR HORSE – The First Noel

17. ANYTHING GOES – Christmas on the S.S. American, featuring Robert Creighton

18. CHICAGO: The Musical – What Child is This? featuring Ryan Lowe

19. BILLY ELLIOT – Waiting for the Snow to Fall

20. DIE BRATSCHEN VON BROADWAY – Lo, How a Rose E'er Blooming

21. Ashley Argota – Dance with Me Santa

22. CAMELOT at The John W. Engeman Theater – O Come, All Ye Faithful, featuring Jim Stanek

23. AVENUE Q – Deck the Halls

24. BABY IT'S YOU! – Auld Lang Syne

25. Daniel Rodriguez – O Holy Night
Costing just $20, the album is an excellent way to lend your support to an organisation that provides financial grants for services for people living with AIDS and HIV. BC/EFA is the theatre community's response to the AIDS crisis, and the organisation has raised many millions of dollars since it was formed in 1992. To learn more about BC/EFA, please visit the website.
---
Harry Potter and the Deathly Hallows: Part 1 and Part 2 nominated for British Academy Children's Award
Nominations for the 2011 British Academy Children's Awards have been announced today, with nods for Harry Potter and the Deathly Hallows: Part One and Part Two in the BAFTA Kid's Vote and Feature Film category. Voting for the BAFTA Kids' Vote powered by Yahoo, opens today (24 October 2011) and closes at 18.00 on Friday 25 November 2011. Children can cast their votes at www.baftakidsvote.org.
The awards will take place on Sunday 27 November at the London Hilton, Park Lane.
---
Vote for Dan in People's Choice Awards 2012
Dan is a nominee in this year's Favourite Movie Star Under 25 category of the People's Choice Awards, opposite his Potter co-stars Rupert Grint, Emma Watston, and Tom Felton. Voting is currently under-way to create a final short-list of five nominees, which will then be revealed on 8th November. You can vote as often as you like, so get clicking!