MTI Broadway Jr. Student Celebration & Tony Awards; Broadwayworld.com Award; Trevor Project ; H2S on CD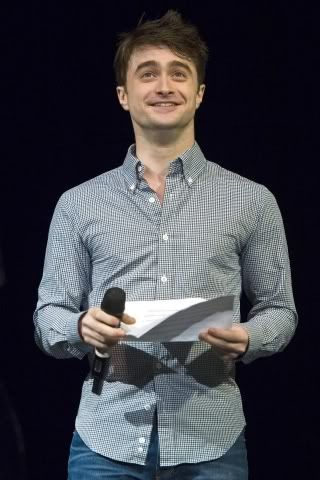 Yesterday, Dan took to the stage of the Majestic Theatre as MC of the Shubert Foundation/MTI Broadway Jr. Student Celebration, in which hundreds of NY city public school children had the opportunity to perform on Broadway. Order Partner Snitch Seeker have posted several photos from the event in their gallery, one of which can be seen below; the rest can be viewed here. In a video from the event, viewable on YouTube, Dan confirmed that he will be leading the cast of How to Succeed in a performance of Brotherhood of Man at this Sunday's Tony Awards ceremony. How to Succeed is nominated in eight categories.
The results of the BroadwayWorld.com awards were announced yesterday, and Dan won Best Leading Actor in a Musical with 27% of the vote. How to Succeed also had wins in the Best Revival of a Musical¸Best Lighting Design and Best Scenic Design categories. Congratulations to Dan and the cast and crew of How to Succeed!
The Trevor Project recently received a $15,000 donation on behalf of Dan and How to Succeed (thank you to Carole for finding the following pictures). Dan is due to receive the Trevor Project Hero Award at the end of this month to recognise his support for the organisation.
And just a quick reminder for those of you in the US; the soundtrack of How to Succeed is available on CD from today! The digital and CD version will be available elsewhere from June 13th.