EW : Pictures of Dan Radcliffe in How to Succeed
There are some wonderful new pictures of Dan in H2$ on the EW website, here… click on the thumbnails…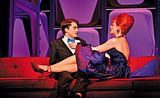 The pictures will be in EW magazine, in shops tomorrow in the US.
And, while I'm posting, I just wanted to quote from the blog So Musical Theatre, from a theatre fan, not a Dan fan…
And the star is – Daniel Radcliffe. No longer Mr Potter, Daniel has cynics (including myself) completely eating their words. He was absolutely extraordinary. I was wowed by him. A very strong singing voice, bang in tune all the time (more than can be said for a lot of Broadway musical theatre stars *cough-Nathan Lane-cough-cough*), some nice colours coming through, completely at ease with the music. I always appreciate that. And he played a great J. Pierrepont Finch. I have to say, Robert Morse in the film version creeps me out a little bit; he's brilliant, but his eyes do funny things. Radcliffe is instantly likeable, has fun with the role, and knows how to work the audience. And the boy can dance too! His routines in Grand Old Ivy and Brotherhood Of Man are not easy, but he pulls them off with style. I could rave about him for another couple of paragraphs, but I won't. Simply stunning – a brave, assured and successful musical debut. Bravo.