Director's Cut – Interview with Dan and Rob Ashford; H2$'s Rose Hemingway Talks About Dan
With just two days to go until How to Succeed In Business Without Really Trying opens in previews, it's proving to be rather an exciting and busy time!
First up, we have Playbill's first Director's Cut video series, which focuses on a conversation between H2$ director/choreographer Rob Ashford and Dan. This can be viewed here or by clicking on the embedded video below the 'read more'.
In today's second piece of H2$ news, Rose Hemingway, Dan's leading lady in H2$, spoke to Broadway.com about working with Dan.
Is Rose Hemingway the woman who'll make a man out of Daniel Radcliffe on the Broadway stage? "I am that woman!" the leading lady of How to Succeed in Business Without Really Trying laughingly tells Broadway.com. "That sounds good." Kidding aside, Hemingway says Radcliffe is perfectly cast as J. Pierrepont Finch, the go-getting window washer who attracts the amorous attention of her character, secretary Rosemary Pilkington.

"He's a younger Finch than ever before," Hemingway says of Radcliffe, "but it makes sense that Finch would be a guy in his early 20s who is really eager and ambitious." And the love-at-first-sight plotline works fine for her: "We definitely have some strong chemistry," the actress says. "From the very beginning, we clicked and had a great rapport. Daniel is an easy guy to get along with—he's so down to earth and fun; he doesn't have any airs about him. When you're working with someone who has that kind of high profile, you expect they'll make life difficult, but he is the opposite in every way. He's just a delight."

In real life, Hemingway is a newlywed, having married her Mamma Mia! tour co-star Geoffrey Hemingway in November, but onstage at the Al Hirschfeld Theatre, she's looking forward to creating sparks with Daniel Radcliffe. "In all seriousness, I certainly don't feel like I'm playing opposite a kid," she says of the actor best known for portraying teen wizard Harry Potter. "Our characters have such a sweet journey together. Daniel is going to blow people away.
Be sure to check back over the coming days for more on H2$! And we'd love to hear your thoughts on the show.
 ETA: An added little treat, courtesy of Claire and Star, so we get Dancing Dan at the top of the page again: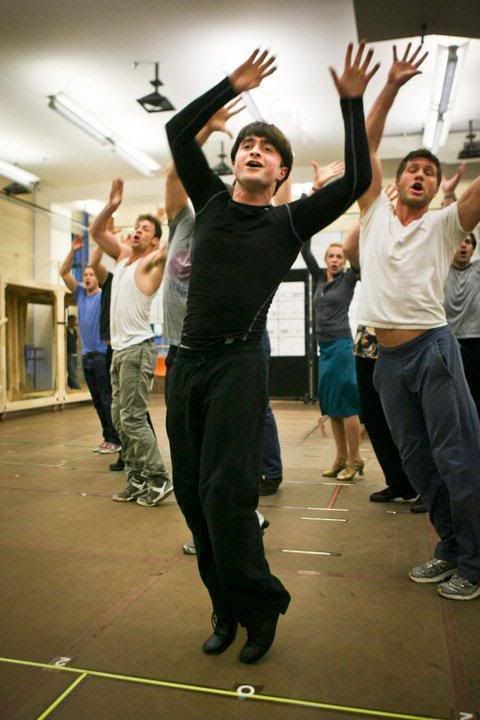 ETA2: Our lovely order partners Snitch Seeker have high res versions of the rehearsal photos from People.com!