Review: Harry Potter and the Deathly Hallows – Part I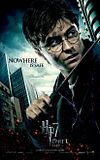 A couple of days ago, I was lucky enough to see a new film…
As the film has now had it's first public(ish) screening, our reviews have been unembargoed!
Mine is brief and pretty much spoiler free, so click on the 'read more' if you want to see what I thought.
It is hard to adapt a lengthy, complicated and well-loved book for the cinema.
It is notoriously hard to include everything that the fans think they need to see.
David Yates and Steve Kloves have managed to include almost everything close to my very book-loving heart, while making a stunningly beautiful film.
I really could not believe how little has been cut from the book.
I don't know if someone who hadn't read the books would follow the snippets of Dumbledore backstory, I am still intrigued as to how the Trio will find the remaining Horcruxes, when Dumbledore never even bothered to describe the Cup, and Ginny apparently hid Harry's potions book under the Diadem.
But that is for Part II, to show us, next July.
This film was all about the relationships between Harry, Ron and Hermione, stranded in the wilderness, away from home and school and everyone they know, and they all suffer so beautifully.
Harry doubts himself, Ron and Hermione don't trust him – the Horcrux creates division between them – but they all get past this and grow up and grow together, and are ready for the challenges of Part II.
And, as always, interspersed between the death and misery are wonderful comic moments, with Polyjuice being used to great effect – not just in the epic and technically brilliant Seven Potters transformation, for which Dan Radcliffe deserves all the praise in the world for his clever and spot on portrayals of the other Six Harrys, but in a couple of fantastic moments where Polyjuice wears off.
Harry Potter and the Deathly Hallows – Part I opens on November 19th.