Worldwide Premiere Live Webcast : Harry Potter and the Deathly Hallows – Part 1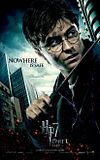 As I am sure you are all aware, tomorrow is the World Premier of Harry Potter and the Deathly Hallows, Part I.
The drama, excitement and rain will be taking place in London's Leicester Square, and the lovely people at Warner Brothers are organising a live webcast, for those of us who cannot be there.
You can watch on their site, here, or come back to this post and watch on our handy embedded video (I hope) :
I recommend you bookmark this post, so you don't lose track of it, in the current media frenzy.
Coverage starts at 5pm GMT (9am PST / 12pm EST).