Deathly Hallows : Eight More Trailers!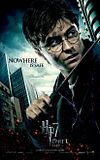 For people who need more film spoilers, there are EIGHT new telly trailers at WB's YouTube channel.
From comments elsewhere, they seem to viagra by mail order be riddled (see what I did, there?) with new footage – including more of the Seven Potters, so venture further at your own risk.
Or hold out for another 31 days.
Don't tell me what you see!