Deathly Hallows : Eight More Trailers!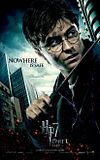 For people who need more film spoilers, there are EIGHT new telly trailers at WB's YouTube channel.
From comments elsewhere, they seem to be riddled (see what I did, there?) with new footage – including more of the Seven Potters, so venture further at your own risk.
Or hold out for another 31 days.
Don't tell me what you see!