Dan Radcliffe is Dazed and Confused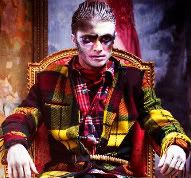 November's issue of Dazed and Confused magazine is in shops in the UK, and available for mail order through their website.
 The photoshoot is gorgeous and the accompanying interview is as candid and fascinating as ever. As someone who has twitched at every Google alert in the past week, I would like to just tell you the full quote about sleeping with dancers…
"I said to my friend the other day. 'Dude. I'm doing a show with dancers. I've got to be single. he was like. 'Don't sleep with anyone in your own show. That's a mistake.' It's good advice, but I'm not sure I'll stick to it. I have a habit of falling in love with people at work. I fall in love very easily."
 Which I find a tad more romantic than when taken out of context…maybe I'm just getting old.
And a rather more significant quote : Now, those of us who never had much interest in wizardry should sit up and take notice of one of our most exciting young actors who, at the age of just 21 is on the verge of a spellbinding transformation. 
Anyway, we do of course have scans for you, here:
Dazed Contents Page | Dazed1 | Dazed2 | Dazed3 | Dazed4 | Dazed5 | Dazed6 | Dazed7 | Dazed8 | Dazed9