Fifty Days Until Deathly Hallows – Dan Radcliffe Video on Facebook
With a where-have-the-years-gone-it's-ridiculous fifty days until Harry Potter and the Deathly Hallows Part I is in cinemas, there is another treat on the film's UK Facebook group – a video of Dan boggling that ten years have passed since he started this amazing journey – and recommending that we do not miss seeing him in women's clothes, in the Seven Potters…
And also urging UK Facebookers to click here and be entered into the latest draw for tickets to the World Premier, in London, on November 11th.
For our overseas readers, we have captured the video for you, here…
UPDATE : And, while we have your attention, there is news on the American Library Association's website that Harry Potter stars Daniel Radcliffe, Rupert Grint, and Emma Watson are the latest celebrities to show their support for their READ campaign.
As you can imagine, the READ campaign encourages children to pick up a book and read! The accompanying posters will be displayed in libraries across the country and show each actor posing with their favorite novel- Dan choosing the Russian novel The Master & Margarita by Mikhail Bulgakov.
The posters can be purchased online – as a set of three – for $40 although they won't be released until October 18th.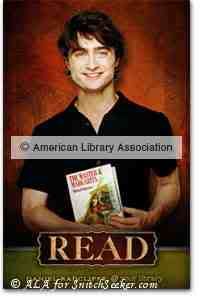 Thanks to SS for the tip!