First on Location Image from The Woman in Black
A first on location image from The Woman in Black has surfaced in the Yorkshire Evening Post, showing Dan looking very dapper, in costume as Arthur Kipps.
Click it bigger…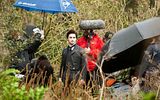 ETA:
Just Jared
 has helpfully blown up and cropped the image for us. Prepare your swooning couch, ready the smelling salts, and then click to embiggen.